Pitch
Thank you for making this the #5 card game on Google Play in 2010, #32 in 2012 and #23 in 2014.
I just published the 1.19 update. Pitch will now be installable on Chromebooks when support arrives this fall.
Description
Also known as: "Setback" (set back), "High Low Jack", "Smear" (Schmier, Shmear) and "Auction Pitch"
Pitch is a trick-taking card game, usually played by four players with partners. Players bid for the privilege of deciding trump, and then proceed to capture points though taking tricks. A player (team) goes set if they do not take the amount of points they bid. The origins of the game come from the British game, "All Fours".
Four point pitch has the following points: High, Low, Jack and Game. A standard 52 card deck is used, but only 24 cards are used for any given game (six cards per person). All 24 cards are played.
Ten point pitch has these points: Ace, Jack, Jick, Jokers, Ten, Trey, and Duce. A 54 card deck is used (2 jokers) and only trump can be played. The Trey is worth 3 points.
Features
Everybody plays the game differently, Pitch for the Android allows for many options, including:
Computer difficult settings
Who Takes Low (person who takes or who lays it)
Bid stealing by the dealer
Minimum Bid
Gentleman's Hand
End of game score
How trump is chosen (first card laid or declared the bid winner)
Initially deal 6 or 9 card
Play with Trump only
Bid to win
Play with or without partners (Cutthroat)
The following points can be played (High, Low and Jack are always played):
Jick (Left Jack)
One Joker
Two Jokers
Ten (Game)
Trey
Off Three
Five
Off five
Game
Last Trick
Screen Shots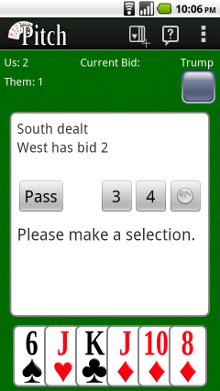 Screenshots of Pitch for Android
Video Demonstration
Video Demonstration of Pitch for Android
Reviews
As a 4 point pitch player, please email me your comments and suggestions, especially on other point pitch, so that I may improve the game. Thank you to all of you whose suggestions have made the game what it is now.
New look is much better. Al seems more consistent. Nice! -Matt (06/1/2013)
So happy to have found this on the play store! I love playing pitch, but it doesn't seem like a very popular card game. Loving the app so far. Thank you for creating this. -Matt (01/17/2013)
I played this game a lot growing up. Lot of fun and captured perfectly in this app. Well done! (12/4/2012)
Finally a setback game!!! For some reason I never could find an online setback game. This app is great with all the options to customize to the all the different ways possible. So many variations to consider, must have been a challenge to program. Great job and thanks!!! Next task is to make it playable with live opponents. -Paul (1/5/2012)
A BIG KUDOS to John. Thank you for 10 point pitch. LOVE IT!!!!!! -Gregory (3/20/2011)
Great game. Best I have seen for pitch. Really helps hone your skills. -Matt (7/7/2010)
Fantastic app. Early AI issues have been corrected. Customization options are excellent. 700+ games deep and I'm not close to tired of this app. -Tom (7/6/2010)
Just like upstate ny pitch, last update got the app its 5th star!!!! -Gregory (3/18/2010)
Great update!!…..thanks for listening to requests for games to 21…..fantastic job! -william (2/1/2010)
Planned Improvements
| Type | No. | Description | Status |
| --- | --- | --- | --- |
| F | 10 | Redraw after bidding in non-trump only games | Planned |
| F | 12 | Reduced Deck preference | - |
| F | 13 | Report all bids, not just the last | - |
| F | 14 | Better support Nexus 10 screen resolution | - |
| B | 15 | Consider off-suits for high/low | - |
| F | 34 | Custom minimum bid | - |
| B | 66 | No trump played crash | - |
| B | 69 | Kings are a bit smaller on some devices | - |
| F | 71 | Redeal in 4 point pitch | - |
| F | 72 | Animated Cards | - |
| F | 73 | Play down from a score preference | - |
| F | 74 | Require all tricks to shoot the moon | - |
| F | 76 | Must follow suit preference (no trump-in) | - |
| F | 77 | Additional Points: Off-Ace, Nine, Off-Nine | - |
| F | 78 | Show score/points after each hand (10 point) | - |
| F | 79 | Play with all 52 cards | - |
| F | 82 | Bid to win - win even if you go set | - |
| B | 83 | Unknown timing/restore crash | Investigating |
| F | 11 | Online gameplay | - |
| F | 35 | Call for partner and more/fewer players | - |
F = Feature, B = Bug
Release Notes



















Pitch
by John Tooker
(c) 2009 - 2016
com.jtooker.pitch_4_local

Play 4 or 10 Point Pitch (Setback, High Low Jack) against 3 computer opponents.

--------------------------------------------------------------------------------

Version 1.19 -- 2016-06-11

#126 -- Do not start a new game on version upgrade
#128 -- Support Chrome OS

--------------------------------------------------------------------------------

Version 1.18 -- 2015-08-14

#105 -- Do not play Jack if it cannot be taken
#106 -- Try to pull the Jack on subsequent tricks
#110 -- Fix about dialog copyright
#118 -- Run with Jack over Ten (10) in 4 point
#119 -- Shooting the moon successfully can count as a loss
#120 -- Prioritize Jack over Ten (10)
#122 -- Crashed on empty table- auto complete?

--------------------------------------------------------------------------------

Version 1.17 -- 08-23-2014

#107 -- Increase games won if partner bids to go out
#108 -- High is incorrect if a joker is played on its trick

--------------------------------------------------------------------------------

Version 1.16 -- 07-12-2014

#6   -- Cut-Throat (no-partner) preference
#15  -- Consider off-suits for high/low
#64  -- Pause on last trick does not resume well
#68  -- Trump Only: Award point to bidder if a card is not out
#84  -- Improve logging for crash debugging
#93  -- Replay Feedback Mechanism
#103 -- Card markers are off especially when only one computer player is left

--------------------------------------------------------------------------------

Version 1.15 -- 05-16-2013

#1   -- Tablet User Interface Enhancements
#2   -- Bid to win preference
#3   -- Improved Preferences Menu
#4   -- Automated Testing
#5   -- Improve Bidding when behind
#7   -- Double deal card bug (often joker)
#8   -- Improve gentlemen's hand reporting
#9   -- Computer's Hand missing cards crash
#16  -- Trump only - unplayed cards go to bid winner
#17  -- Update about dialog
#23  -- Swipe in preferences in portrait mode
#24  -- Crash after exit app from preferences
#25  -- Install to SD card & halo theme
#28  -- 'no trump first trick' prevents play
#29  -- When always show hint; after starting first hand, hint is not shown
#30  -- After catching a crash bugs
#37  -- AI :: 4 point :: Lead card should not be a low trump
#38  -- Game is stuck when human has not trump to play
#40  -- Reset preferences to default - does it work?
#41  -- Crash in pickCardWhenOpponentsOutOfTrumpAllSuits when no trump
#43  -- Joker preference dependencies broke
#44  -- The deck is not large enough for some point configurations and redeal
        for trump-only
#45  -- After post preference restoring defaults while on welcome screen
#47  -- about icons on large low dpi
#49  -- AI :: 10 Point :: Don't play a higher trump if not needed
#50  -- Need to use the pitch theme in all activities
#51  -- From scratch name not remembered on prefs/rules
#52  -- Array out of bound crash
#53  -- Try catch around play card action
#55  -- 1.15 Release Cleanup
#56  -- AI :: in five point when the low can be taken, ai is bad
#61  -- Bid winner declares trump in 4 point pref ignored
#62  -- 'no trump first trick' bugs
#63  -- After picking trump, hint is shown when option is off
#65  -- Need to store deck after loading from .xml

--------------------------------------------------------------------------------

Version 1.14 -- 06-20-2011

--Make "Who takes Low" option easier to find
--Bug fixes

--------------------------------------------------------------------------------

Version 1.13 -- 03-29-2011

--Bug Fixes

--------------------------------------------------------------------------------

Version 1.12 -- 03-20-2011

--Added additional points (10 point, 13 point, etc).  In addition to high, low
  and jack, the following options are available:
----Game
----Jick (off-Jack)
----One Joker
----Two Jokers
----Ten (Game)
----Trey (worth 3)
----Off-Three (3)
----Five (5)
----Off-Five (5)
----Game
----Last Trick
--Trump only preference
--Deal 9 cards preference

--------------------------------------------------------------------------------

Version 1.11 -- 08-16-2010

--Bug Fixes

--------------------------------------------------------------------------------

Version 1.10 -- 08-15-2010

--Bug Fixes

--------------------------------------------------------------------------------

Version 1.09 -- 08-12-2010

--Bug Fixes

--------------------------------------------------------------------------------

Version 1.08 -- 06-??-2010

--Gentlemen's hand preference
----Can redeal hand if all cards are non-face cards

--------------------------------------------------------------------------------

Version 1.07 -- 05-??-2010

--Bug Fixes

--------------------------------------------------------------------------------

Version 1.06 -- Unknown Date

--Bug Fixes

--------------------------------------------------------------------------------

Version 1.05 -- Unknown Date

--Deal can steal bid preference
--Dealer must bid 2 preference
--When picking trump, may declare no trump first trick

--------------------------------------------------------------------------------

Version 1.04 -- 03-??-2010

--Pick trump preference

--------------------------------------------------------------------------------

Version 1.03 -- 02-??-2010

--Play to 21 or any other between 1 and 1001

--------------------------------------------------------------------------------

Version 1.02 -- 12-22-2009

--Four Point Pitch initial release on Android Market
--4 skill levels per CPU
--card display delay
--show game points
--hint
--low to whom

--------------------------------------------------------------------------------